This article describes how to work work with titles in GoPro Studio.
How many titles can be added?
GoPro Studio provides two title tracks. You can add as many titles to these tracks as you want.
How to create a title
To create a new title, simply click the Title button. Doing so will automatically add a new title to the Media Bin with the default text of "Title".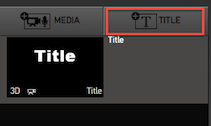 How to edit the title
Since you most likely don't want a title that says "Title", you will want to customize it to say what you want. You can do this by typing in the Title Text Box on the right side of GoPro Studio.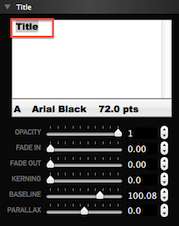 Additionally you can edit the following title properties in this section:
Opacity - Changes the transparency of the text.
Fade In - Changes the Fade In of the Title (in seconds).
Fade Out- Changes the Fade Out of color, use the Title (in seconds).
Kerning - Adjusts the spacing between letters.
Baseline - Adjusts the line spacing between lines when there are multiple lines of text.
Parallax - Adjusts the closeness or farness of the text in 3D space.
How to position the title
In the player window you can click on the title text and drag it anywhere you want so that it is in the desired position.