With the GoPro App v2.4 for iOS, BMW & Mini drivers will be able to control their camera using the iDrive system.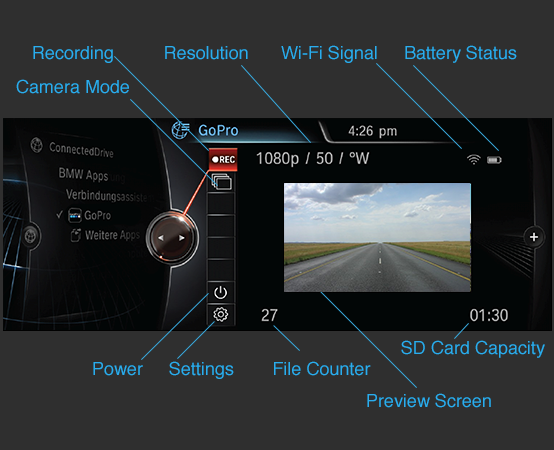 Requirements
You must have an iPhone 4S or higher using iOS 7 and higher
Your car must have iDrive Apps

BMWs starting March 2011
Minis starting November 2010
Setup Instructions
To control a GoPro camera using the iDrive system, you must have the camera powered on with Wi-Fi powered on and in GoPro App mode.

You must then establish a connection with their iOS device and your GoPro camera by selecting the camera's Wi-Fi network from the Settings menu on your iOS device.

Once a connection is established, you must launch the GoPro App and connect your iPhone to the dock in the vehicle's console.

When the iPhone is docked, you should be able to launch the GoPro App for your iDrive system.
Intro video