What are you trying to do?
How to properly charge the camera battery.
Where does it apply
HERO4
HERO4 Session
HERO+ LCD
HERO
HERO3+
HERO3
HD HERO2
HD HERO Original
How to do it
If you would prefer to see a video tutorial on charging your camera, check out this article: Video Tutorial - Charging Your Camera and Accessories
The following instructions detail the best way to fully charge your camera battery.
Power the camera and Wi-Fi (if applicable) off.
Disconnect any BacPac accessories (if applicable).
Connect the camera to the USB port on the computer.

If possible use a USB port on the back of the computer.
Alternatively, you can connect it to a USB wall charger that outputs 5V and 1A. Wall Chargers can be purchased at the GoPro store.

The front red LED on the camera should turn on to indicate that it is charging.
Leave the camera powered off and charging until the front LED has turned off. Once the front LED turns off, the battery is fully charged. This can take up to 4 hours if the computer is used and up to 2 hours if a USB wall charger is used.
If the camera doesn't power on or the red LED doesn't light up, check out our no power troubleshooting instructions:
Important note: If you are seeing the charging bars below the USB mode symbol, this means that the camera is in USB mode and is not charging as effectively because it is using some energy staying powered on. In this case it is recommended to disconnect the camera and power it off. Then reconnect the camera so that the red LED light comes on. Here are images showing the preferred way to charge the battery:
Preferred

HERO4 Preferred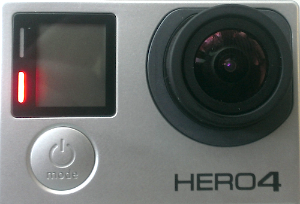 Not preferred