Yes. There are no restrictions (copyright, music..etc) related to posting the output of your template based GoPro Studio generated videos.

YouTube
It is possible that YouTube will display a message stating "Your video may include music that is owned by a third party" if you are using the Shotgun Barrels template with the Small Town Zeros song "Secrets". Here is an image showing the message: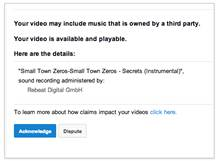 If that happens, just click "Acknowledge" to accept the fact that monetization on that video production goes to the Artist.
Facebook
There should not be any issues with posting videos to Facebook.