Style and Tricks Count At The GoPro Mountain Games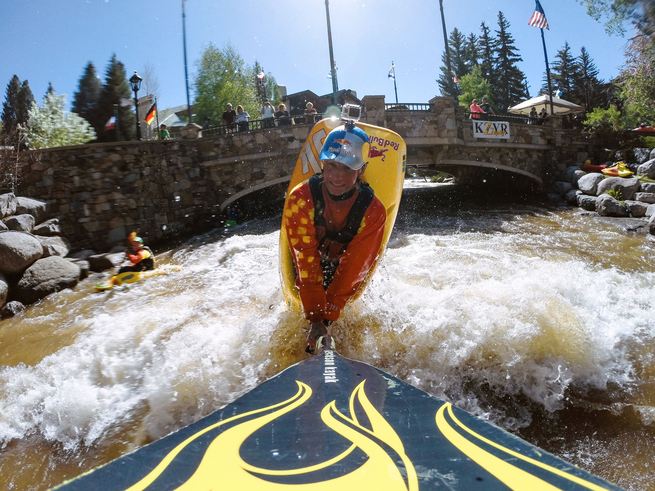 It's not always about crossing the finish line first at the GoPro Mountain Games, in these four judged events it's all about tricks and style. Our top GoPro athletes give us the 101 on their events, sharing insight into the competition format, the equipment, and the tricks. 
Freestyle Kayaking With Dane Jackson
At only 20 years old, Dane Jackson already has a rock solid reputation as one of the top paddlers in the world. Dane is competing in all four kayak events at the GoPro Mountain Games, with Freestyle kayaking, aka playboating, out front as his favorite event. Freestyle kayaking is also a crowd favorite with all the action happening on one standing wave in front of the spectators. Dane explains that a good competition wave, like the one in Vail's Gore Creek, needs to be deep enough to hold the boat in so the kayakers can stay in place and throw consecutive tricks without getting washed out. The playboats used in Freestyle kayaking are built specifically for this event—they're short, averaging six feet in length with minimal volume on either end of the boat, which makes it possible for these boaters to sink the tips which is crucial for the majority of tricks.   
Competitors usually start out their runs with basic tricks like a loop, which is essentially a front flip, difficulty is added with rotations— add a 180 rotation to a front flip and you'll get a Space Godzilla. Change the axis to get into Cartwheels.  A higher scoring trick is called a McNasty, which involves starting backwards (facing downriver) and pivoting 180 degrees into a front flip. A real high scorer, and one of Dane's go-to tricks, is the Phonix Monkey—a 360 rotation to a frontflip. While doing these tricks, boaters focus on trying to get as much air as possible by plugging the boat in the water and using that release to get amplitude which scores higher. The Freestyle kayaking competition format is one minute to do as many tricks as possible with the goal of not doing the same trick twice. If a boater gets flushed out of the wave, they can still paddle back upriver and continue their run, but the trick they washed out on doesn't count.
Slacklining With Alex Mason
At only sixteen years old, Alex Mason is one of the top slackliners in the world. He first got into slacklining through climbing, which is where the sport has its roots, and has since dominated competition worldwide. Alex gave us a rundown on slacklining basics.
The slackline, aka, "the line" is a two-inch wide piece of webbing tensioned with ratchets to 2,000 pounds of pressure, which Alex says, "gets it nice and bouncy." Competitors prefer flat bottom shoes with a sticky sole like skate or climbing shoes. 
In competition, the slackliners alternate taking two-minute runs doing a series of controlled tricks or combos. The most popular tricks are moves like butt flips, which involve front flipping from your butt and landing back on your butt, or alternately back flipping. Taking it up a notch would be to butt front flip or butt back flip landing on your feet. Tricks get more complicated from there like the "Sick Nasty" which involves holding onto the line while using upper body strength and stability to bring your body around your hands. In general landing a trick on your feet scores higher than landing on your butt or chest.
When watching slacklining, Alex says to keep an eye on how the competitor is using their feet. Putting a foot flat on the ground, aka "Dabbing," is considered bad form whether to help balance in landing a trick, or even worse, to touch the ground to keep yourself from totally falling off the line—that's a "really big dab." To land a trick cleanly you should make no contact with the ground, stick it clean, and get back to your feet as quickly as possible and then control the line for over three seconds.
Slacklining isn't without consequences—it's not unheard of for competitors to miss the line on a butt bounce and hit the floor compressing their spines, or even worse, bounce off the line straight to their head.
Slopestyle Mountain Biking With Aaron Chase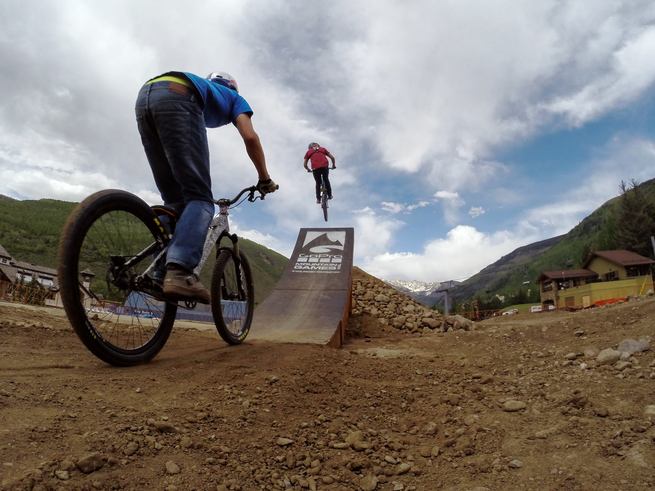 Aaron Chase is a legend in the sport of slopestyle mountain biking, having had a hand in pioneering this discipline in both course design and equipment—he's the perfect guide to explain the basics. In slopestyle, riders are judged on difficulty of tricks and style as they make their way down a gravity-fed obstacle course packed with drops, wallrides, and jumps. The bikes are stripped down versions of traditional mountain bikes built to be ultra-light, yet strong enough to hold up to hard landings, and meant specifically for downhill travel. Aaron's bike has just one brake, one front shock, wide handlebars, a long frame, wide high-volume tires, and a super low seat because, as he points out, "you're never really sitting down." Huge airs combined with hard dirt landings call for some level of protection which riders vary based on how gnarly they perceive the course to be, but at minimum they're wearing low-profile knee and shin pads, gloves, and a full face helmet.
The format is a top to bottom run judged on the tricks. Some of the most common tricks are backflips, tailwhips—where the bike spins 360-degrees while the rider stays facing forward holding onto the handlebars, and 360s with the bike and the rider spinning. Riders add increasingly difficult variations, aim for bigger airs, and load up on style to increase their scores.
Since every slopestyle course is different, Aaron says that interpreting the terrain is a crucial skill for hitting these obstacles—knowing when to tap the brakes and when to really send it is the difference between a smooth landing on the transition and overshooting to flat. Also important is managing takeoffs, depending on how the lip of the takeoff is built—long and mellow or short and steep—requires the rider to adjust their approach. Riders are either popping off the jump to go higher, coasting off the jump to keep speed, pushing to really send it further, or scrubbing speed on a jump to slow down.
Competition Bouldering with Angie Payne
Angie Payne is renowned as much for her lengthy list of competitive bouldering wins as she is for impressive outdoor bouldering accomplishments. The GoPro Mountain Games is the site of the only World Cup bouldering event in the U.S., Angie explains how an outdoor sport is adapted to a competition format. Bouldering, whether in a natural setting or in competition is as straightforward as climbing boulders without the protection of ropes. Simple equipment includes shoes, a chalk bag, and a soft crash pad below.
In competition, the format is on a manmade wall in a timed event, but Angie explains, "it's not a race, it's how high you get on the wall within a set amount of time to try each boulder problem." ("Problems" are how climbers refer to the configuration of climbing holds on the wall.) The more times you get to the top, the better. One twist though is that the climbers don't actually see the problems until the timer starts—they're literally facing away from the wall until their turn. The climbing holds (with descriptive names like pinches, slopers, crimps, and pockets) are reconfigured in increasing difficulty as the competition progresses. Climbers are challenged in numerous ways—the length of the problem, the difficulty of the holds themselves, and the movements required to move between the holds. When a climber finishes a boulder problem it's called a send, if a competitor does it on the first try—which is incredibly difficult in competition as the problem is sigh unseen—it's referred to as flashing the route.