Immerse Yourself in Brazilian Beach Futebol with GoPro: For the Love, "Raizes"
"Raizes" in Portuguese means "roots" and futebol is considered the root of Brazilian culture, sport and passion. GoPro media team members Davis Paul and Ben Williams spent two weeks exploring Brazil leading up to the 2014 FIFA World Cup™ to get a fresh perspective and in-depth understanding of what futebol symbolizes in Brazilian culture. Using the GoPro Hero 3+ Black Edition, the two captured the raw side of the local's love for the game.
In this episode of GoPro's "For the Love" World Cup video series, Davis and Ben explore the world of beach futebol on Copa Cabana in Rio de Janeiro. The pair quickly met dozens of locals, called Cariocas, who invited them to play in their pick-up games and document everything on GoPro cameras. "Walking up to a group of strangers and having them completely welcome us into their group and their games was one of the coolest parts of our trip," Davis notes.
A former MLS player for Chicago Fire, Davis was humbled by the unique style of play required for the beach futebol they encountered in Rio. "It's a completely different game," he said. "Because you're on sand, you can't just dribble around an opponent; it's all lifts and flicks and trickery. The environment completely influences the way people play and it's a skill set you simply don't learn on traditional field or turf."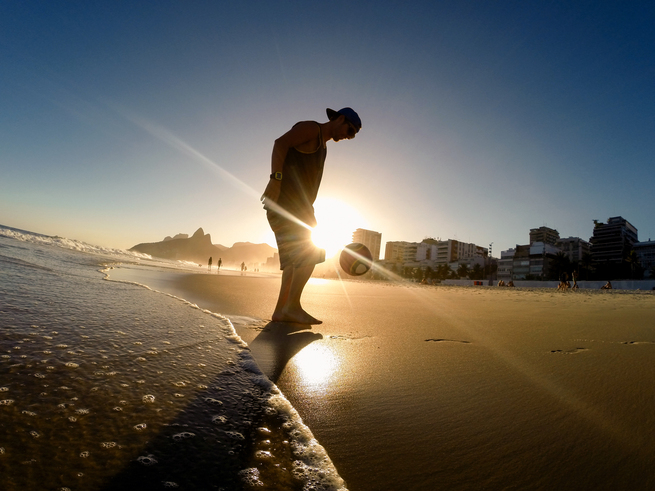 Photo Caption: Davis Paul practices his footwork on Copa Cabana in Rio
Throughout the "Raizes" episode, Davis and Ben were able to capture the insane skills of the players and the action of the game by using the Head Strap + QuickClip mount. Explains Ben, "Your head always follows the ball, making a head-mounted camera an awesome way to document every moment of the game.  Even when those around you do something great, you will still capture it just by looking at them."
From the beaches of Rio to the grit of neighboring favelas, the Brazilian way of futebol can be considered a work of art.  Stay tuned for more World Cup episodes of GoPro: For the Love to learn more about the beauty of the sport and the inspiring stories of the people of Brazil.