To wrap up their amazing journey in Brazil, our GoPro media team focused on the cultural dynamic that exists for futebol - what it means to the kids and how it helps shape their future. From local classrooms to turf fields, GoPro's "For the Love: Aspiração" offers an intimate look at how futebol fuels the passion and joy of the youth in Rochina, one of the largest favelas in all of Latin America.  
Upon arrival, producer Davis Paul and shooter Ben Williams were overwhelmed by the unity among the locals of Rocinha. Davis explained, "We went into it thinking that the favelas were individualistic, however we discovered quickly it's the opposite. This was one giant community all connected by their shared plight."  
During their time in Rochina, Davis and Ben discovered that futebol is used as a tool for children to escape the confines of their living situation and create a better future. The game allows the youth to express their creativity and to follow their dreams and aspiraçãos ('aspirations' in Portuguese).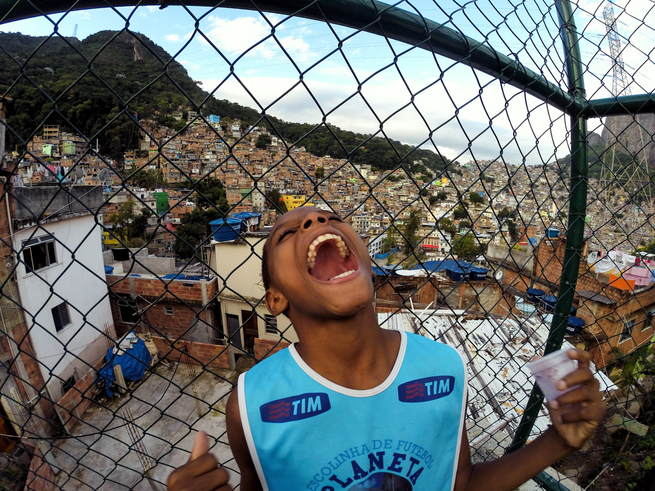 While the odds of becoming the next professional futebol player may be slim, the game encourages these children to strive for the best. Davis explained, "Each pickup game is played with passion as if they were in front of the 50,000 screaming fans." Members of the community commented that the lessons learned through futebol will help lead the children into the right direction of establishing a promising future.
And that future is certainly bright for the Brazilians who take their futebol skill to the professional leagues. Davis and Ben were fortunate enough to spend time with the Corinthians, a professional club team in São Paolo, gaining access to the field during practice and scrimmage. They also captured amazing footage as the team played a final match in the Municipal Stadium before the 2014 FIFA World Cup™.
As all eyes stay focused on Brazil through the World Cup finals, GoPro's "For the Love" series reminds us all that futebol is not just a game - it is the raízes (root) of the Brazilian culture that allows the people to expressão (express) their creativity, and chase their dreams and aspiraçãos (aspirations) every single day.