A Crash Course In Full Contact Kayaking At The GoPro Mountain Games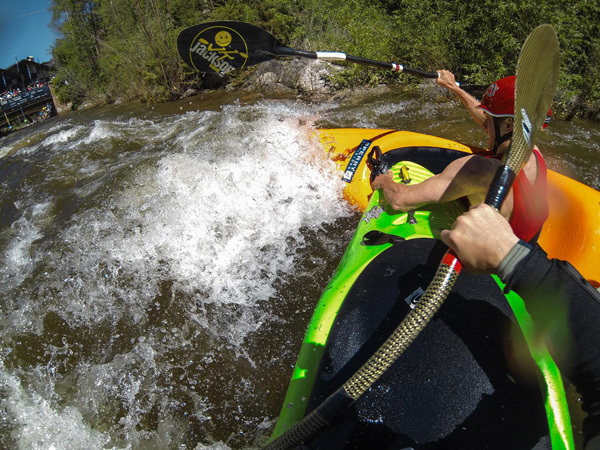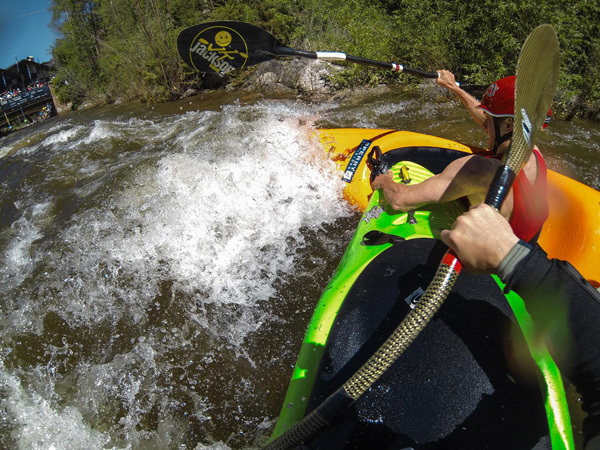 The GoPro Mountain Games are host to plenty of traditional kayaking and SUP events, but it's a non-traditional one that can really get the crowd cheering.
The 2014 GoPro Mountain Games feature seven river events ranging from the familiar downriver kayak and SUP sprints to freestyle kayaking competitions, but there's one competition that's completely unique to the GoPro Mountain Games—the 8 Ball Kayak Sprint created by Vail kayaker and personality Ken Hoeve specifically for the Mountain Games. 
GoPro Kayak Athlete and 8 Ball Competitor Eric Jackson describes the event as "head to head boatercross racing with a little twist." That little twist is a gang of  "8 Ball" kayakers positioned along the 200-meter course who Jackson says, "Are there for one reason only—to ram into, destroy, and somehow scuttle the plans of the racers." Jackson describes his strategy as not unlike a dodgeball event—"Duck, Dip, Dodge, Dive." He adds, "It's important to stay quick and maneuverable and react fast… and whatever you do, don't get plowed into the banks of the river—that's a sure way to lose the race." 
The competition takes place on Gore Creek in the heart of Vail Village with spectators lining the banks and bridges cheering and reacting as competitors take big hits from the 8 Balls in their race to the finish line. This might very well be the most action-packed river race in the world, and the only place you'll see it is at the GoPro Mountain Games!
Also, check out the unique SUPcross event. This river race is comparable to boardercross, with several StandUp paddlers launching at once, navigating around gates and rapids while attempting to take each other out and be the first to the finish line.