Attention VR Content Creators: Omni Is Shipping and You're Going to Want It
Next week, on August 17, Omni will begin shipping to pre-order customers and be available to new customers. If creating 360-degree, spherical, VR content is something you are doing right now or something you are exploring, you owe it to yourself to put an Omni in your toolkit, and here's why:
OMNI – THE ECOSYSTEM
Omni is so much more than just a six-camera capture rig designed for GoPro cameras. Omni is an end-to-end content creation ecosystem that, by accelerating the time from capture to publish, will allow content creators to capture and publish more, higher-quality content.
Capture. Stitch. Share. Enjoy.
CAPTURE: OMNI – THE PHYSICAL UNIT – SIX CAMERAS ACTING AS ONE
Omni is a very special six-camera (HERO4 Black) rig – because at its core lives a synchronization mechanism that allows all six cameras to act as one. Power on the primary camera, and you power on all-six cameras. Adjust the shooting mode on the primary camera, and all cameras automatically, and instantly align on the same mode. Omni is the most sophisticated six-camera rig available to professionals and aspirational consumers interested in shooting spherical content. Here're a few of the key highlights of the hardware:
- Pixel-level synchronization: the synchronization mechanism at the core of the Omni allows capture to be so exact that each camera is synchronized to the pixel level, enabling a clean and expedited stitch within minutes.
- Error-proof shooting: Because Omni will not let you shoot without a fully synchronized rig, with all cameras in the same mode, and functioning SD cards, you, the shooter get to spend more time considering the creativity of your shot, and not worrying about the reliability of the technology – Omni enables creativity with piece-of-mind reliability on the technology front.
- Heat dissipation: Due to its aluminum frame, Omni specifically draws heat away from the cameras, increasing thermal performance for improved run time.
- Versatile power options: Omni's design also allows you the choice to power the rig with an external battery pack (included in the all-inclusive package), or from the individual HERO4 Black batteries. It also allows what we call "battery ghosting" – to power the rig only with external battery power, removing the HERO4 Black batteries for further heat dissipation.
- Durable, modular parts: Omni's physical structure is made from rugged aluminum, exhaustively tested to withstand multiple falls. In the event that a panel or camera is damaged, the modular design allows for the easy and quick replacement of panels and parts, including the 1/4-20 mounting points.
- Metadata / SD Card management: Stop marking your SD cards to know which camera the data from each card belongs to. Metadata recorded onto each file and SD card from the Omni synchronization mechanism allows for worry-free data transfer and content management. Drop the cards out of Omni, plug them into your USB hub and notice that each card is automatically organized by camera into a neat filing system. And don't worry about which camera you place the cards back into. The metadata will always know the proper sequencing for each file.
STITCH: OMNI IMPORTER – FAST, AUTOMATIC STITCHING
OK – so you've used the Omni unit and all the benefits described above to capture some killer content. Now how do you turn that content into something you can preview, stitch and publish? ENTER the Omni Importer. The Omni Importer is included free with AVP 2.5 software, but only functions with content captured on the Omni rig.
Just plug your SD cards into your USB hub (included in the all-inclusive Omni package), open the Omni importer and prepare to be blown away. This is what the Omni Importer will do for you:
- Instant preview stitch: Allowing you, the content creator, to instantly see how your shots line up, the Omni Importer provides and instant, low-resolution preview stitch of all shots.
- Rename your shot: To help organize your files, rename each shot within the importer for easy file management upon output.
- Trim your shot: Don't want to waste time rendering and exporting portions of your shot that you don't want to include in your final clip? Use the trim feature on the playback bar to select the exact moments of your shot to render.
- Color correction: Choose from three levels of color correction (low, medium, high) to produce smooth color blending and improve color transitions in challenging images like blue skies.
- Stabilization: Choose between no stabilization or optical stabilization.
- Render output versatility: Render output into multiple levels of output – 2K for a quick render and deeper preview look at your shot; 4K for a high-quality clip that's ready to publish, or all-the-way up to 8K for cinematic quality.
FINE TUNE: AUTOPANO VIDEO 2.5 AND NLE PLUGINS
What Omni and the Omni Importer have done for creatives is transform the workflow. Produce quality content more quickly than ever before. Used to using Kolor Autopano Video to do all of your stitching? The Omni Importer will now get you 90-100% of the way there and now you can use AVP and new NLE plugins manually fine tune you stitching, geometry and colors.
Content Floater
Want to view your content in an Oculus headset as you edit? New plugins for Adobe Premier Pro allow just that – no need to render, you can view your content as you edit directly through the Oculus headset.
Omni isn't just about capturing spherical – it also enables the director, in post, to create a 2D video from the spherical content that pans exactly however the creator wants. That plugin is called reframe and by over capturing the entire scene with Omni, it allows the director to grab the exact 2D scene from an environment to produce a perfectly panned sequence.
SHARE & ENJOY: GOPRO VR
Content Floater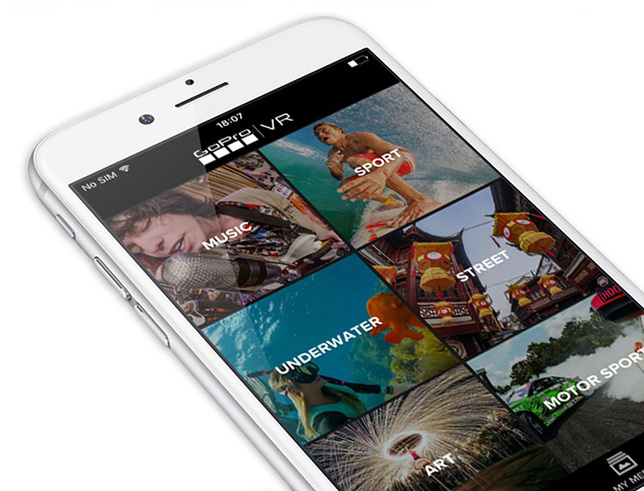 Finally, GoPro is enabling VR content creators with a free player for desktop, web or mobile. Featuring the ultra-cool "Pinch to Little Planet" feature, this player is optimized for high quality VR, 360 and spherical content and allows for viewing on any platform (desktop, mobile, web, headset). The GoPro VR player and the GoPro App.
So yeah…GoPro is really into VR. We're not just into capturing it. We're into enabling the entire ecosystem and Omni is our first fully integrated product that will capitalize on the power of the GoPro VR platform.
So let's see it, content creators. We've created a platform for you. And when Omni ships next week, its game on for VR content creation. We can't wait to see the amazing content you create and share with the world.
It's now as simple as that: Capture. Stitch. Share. Enjoy.