TUNE IN: GoPro and Periscope, Under the Sea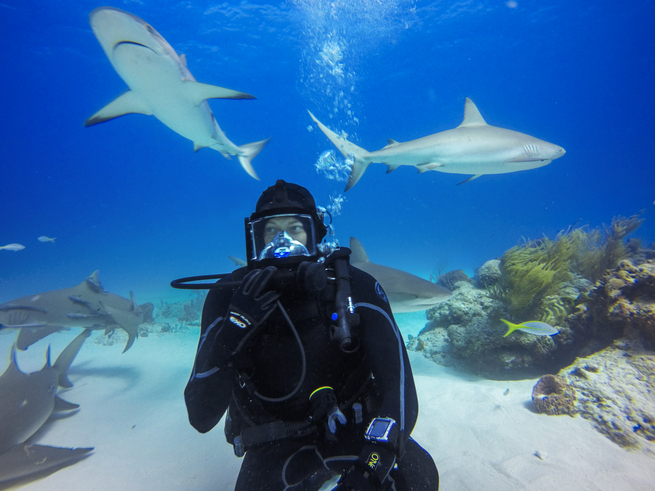 Are you a daredevil with a Shark Week fetish or a landlubber who won't even watch Shark Tale? Either way, keep your eye on Periscope for GoPro's first-ever underwater live stream and watch in real-time as GoPro athletes Jeb Corliss and Roberta Mancino swim with great hammerhead sharks.
The dive (look ma, no cage!) will take place off the island of the Bahamian island of Bimini, where Corliss and Mancino have been exploring under the sea all week.
We talked with Corliss before he left for his scuba-and-shark adventure to get the backstory about the trip. Here's what he had to say:
GP: Jeb, you're best known for your human flight activities, but clearly you're just as comfortable in the water! How long have you been diving?
Jeb: I have been diving with sharks for almost 24 years. This part of the Bahamas is hands down the greatest shark diving on planet earth, when it comes to clear water and a number of different species of sharks. Out of all my trips, this will be my first time with the great hammerheads. And it is definitely the first time I've ever done a live Periscope while shark diving!
GP: What can viewers expect to see when they tune into the live Periscope on Thursday?
Jeb: We want to give viewers an up-close-and-personal encounter with the great hammerhead shark – an experience that most people will never have in their life. We hope to have anywhere from three to seven sharks in the water with us as we go live on Periscope.
GP: What's so special about the great hammerhead?
Jeb: Great hammerheads are one of the largest sharks on planet earth that can attack human beings. They can get up to 20ft in length and have set records for size and weight. These sharks can be very energetic and at times will make contact with the divers. If they get excited Roberta and I will get back to back and defend each other as they come in for the bait.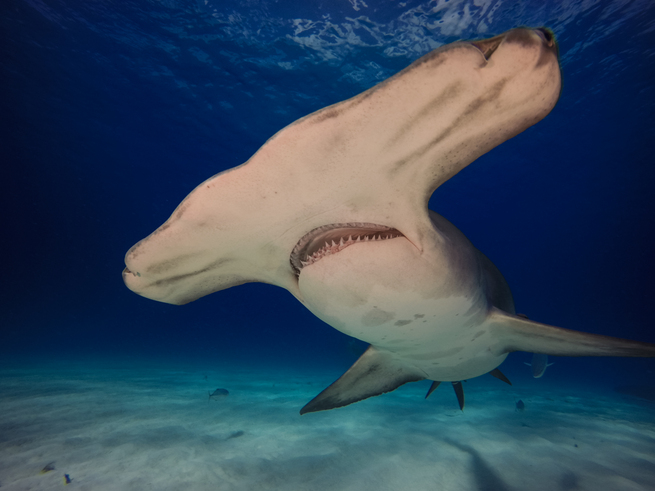 GP: Why do you like to use Periscope? And how excited are you about the first Periscope shark dive underwater?
Jeb: When doing things like base jumping or shark diving, it's fun to watch them live. They are high-risk activities and you are never really sure what will happen. Periscope is perfect for this. Being able to watch a shark dive live is super exciting and people at home will get to feel what it's like. As the action unfolds, people will be on the edge of their seat hoping everything goes to plan. The fact we can connect a GoPro to Periscope, take the camera 40 feet deep and beam it to the world - is super exciting! It will be a game changer for shark diving and for how we share experiences with others.
GP: What equipment will you use to get the shot?
Jeb: I will be using a WiFi extension cable and four GoPro HERO4 Black Edition cameras, each shooting in different frame rates and capturing still images. I'll use standard GoPro mounts to attach the live GoPro Periscope feed to the side of my Guardian Full Face underwater communications mask, so people can watch live from my POV and hear all communications we have underwater. I will also be diving with a pole to defend myself against the sharks and at the end of the pole will be another GoPro. We will most likely have a GoPro on a chest mount as well. The WiFi extension cable will send the signal to the surface and tether to an iPhone, in order to send the signal to the world!
What is truly amazing is anyone with a WiFi extension cable, a cell phone, Periscope app and a GoPro can live broadcast their dives to the world. It's hard to express how amazing this truly is…something like this usually requires huge productions with large budgets. Now this will be something everyone will be able to do!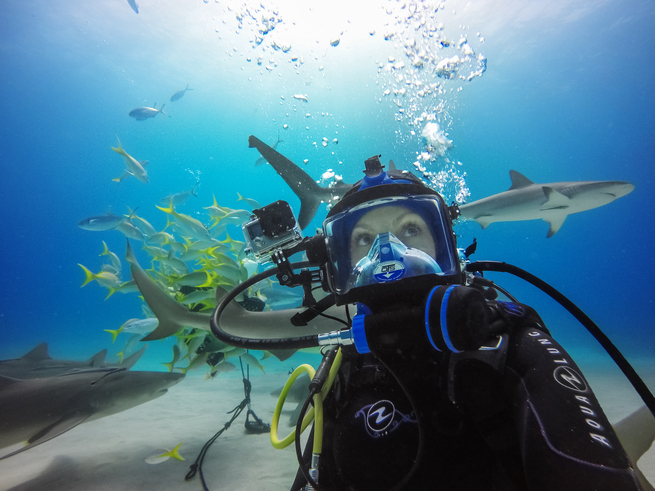 Above: Roberta Mancino diving with Lemon Sharks in the Bahamas, March 2016