The Jungle, The People, and The Fish That Could Save It All
The largest freshwater-scaled fish in the world could literally save an entire ecosystem. But it took a community of willing locals, a passionate biologist and some adventurous fly fishermen to see the bigger picture and put a plan into action.
Arapaima, which can grow up to 10 feet long and up to 400 pounds, and the people of Rewa have always been intimately interconnected. Prior to conservation efforts to protect this fish, harvesting Arapaima was an important source of income as the fish is considered a delicacy to many in tropical South America and their numbers plummeted to nearly 400 in the late 1990s.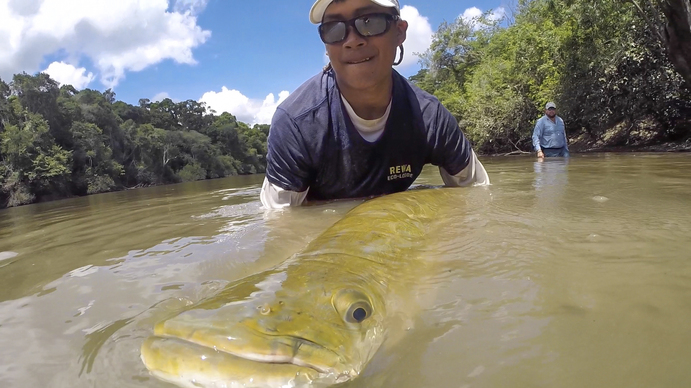 As an alternative to harvest, Rewa developed ecotourism to support their community. Today, in addition to birders and adventure travelers, a burgeoning catch-and-release fly-fishing program offers a sustainable business in place of over-harvesting. As a direct result, fish populations have rebounded and biodiversity is thriving in this remote wilderness. The catch-and-release program is serving as a powerful tool for conservation, where Arapaima are more valuable alive than dead.
Rewa has worked hard to protect their natural resources and yet recent impending threats to the ecosystem jeopardize their way of life. Foreign logging and mining companies are attempting to acquire concessions neighboring Rewa's land. Data collected through biologist Lesley de Souza's research shows Arapaima need these flooded forests during the rainy season to migrate and breed and the fate of these fish and the tourism they bring depends on its protection. Rewa Village has applied for an extension of their tribal lands with the intent to make it a conservation area. This film seeks to show that protecting Arapaima and their habitat preserves the biodiversity within this pristine yet delicate ecosystem and ultimately the livelihood of the indigenous people who depend on it.