The Artic Playground: Climbing Icebergs with GoPro
The frigid waters and dream-like, iceberg-laden landscape of Greenland's Disko Bay sets the stage for GoPro: To Climb an Iceberg, the fourth epic journey in the Adventure in 4K video series. Hop aboard the 63-foot La Louise as GoPro media team members Zak Shelhamer and Justin Whiting captain professional climbers and long-time friends Klemen Premrl and Aljaz Anderle as they search for the ultimate iceberg to summit.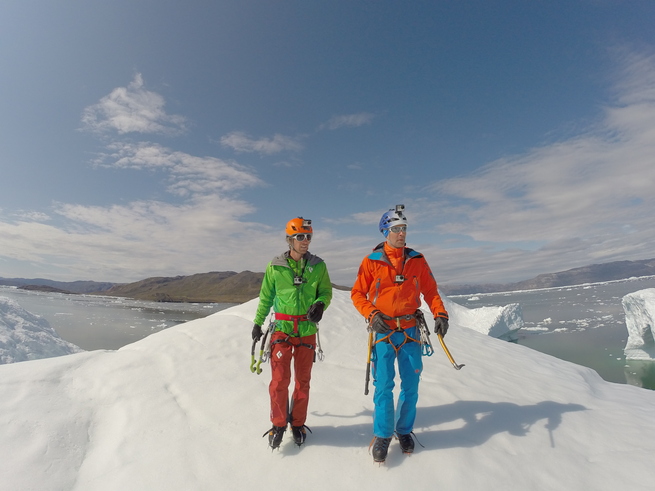 Shot over two weeks this summer, the footage documents the challenges, danger and thrills of climbing in an environment that is equal parts beautiful and inhospitable. Men's Journal interviewed Klemen about the climb and accomplishment in an article published in conjunction with the release of the video – you can read the full Q&A here. Below is a sample of the interview between Klemen and Men's Journal reporter Kitt Doucette:
How high is the summit of the iceberg you eventually make it to the top of?
[Laughs.] We almost always made it to the top. We backed off just once. Anyways, the bergs that we climbed were about 30-50 meters high; the pinnacle of our adventure was the last one, which was about 70-metres high.
How many GoPro cameras did you climb with to get those incredible angles?
Depending on our goal, sometimes we climbed on icebergs that had more diverse surfaces, like a big plateau, moderate steepness, ridges, and steep faces. During those climbs we would wear many GoPro cameras. On that kind of iceberg we could also change their position and settings, we would put them on our climbing gear, like our ice axes and ice screws. Also, we would wear different strange-looking mounts that were custom designed. 

On a real climb, one that was really steep and demanding, we used our usual set-up: two cameras on our helmet (front and back facing), one on our chest, and one on our climbing shoe, along with a pocket camera on a 3-way mount, for celebrating shots at the summit. That makes five cameras each. And a drone with a camera and few cameras on the boat.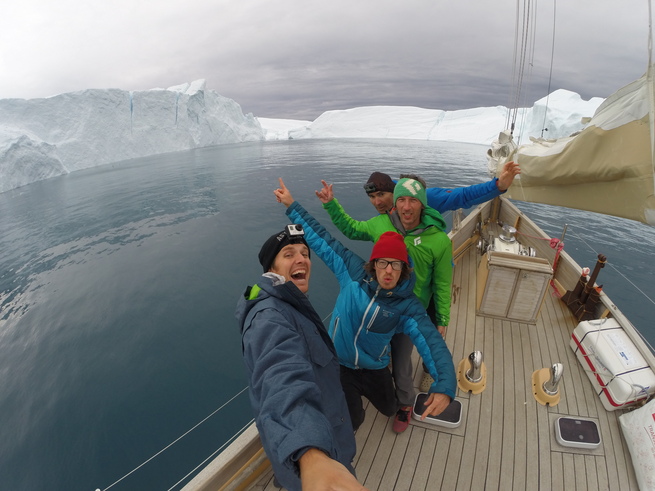 It seems like there's a lot of unpredictability when climbing icebergs. What features or attributes are you looking for when choosing one to climb?

For sure, there is a lot of unpredictability when climbing icebergs. The fact that two-thirds of an iceberg is under water showcases this pretty well. We tried to learn as much as we could about icebergs before and on the trip, but the truth is, that there's no way you can figure out individual icebergs. Each one is totally different. I've trained my whole life to do hard and technically challenging climbing. To be able to do that type of climbing I need to recognize dangerous situations and be able to avoid them. It is how I stay alive.
Icebergs proved to be some of the most unpredictable climbing I've ever done. I figured it out pretty soon after climbing my first iceberg that we can only predict a small fraction of all the different factors, and because of that that it's a lot more difficult to recognize the truly dangerous situations. At first, I was able to look at this problem as a matter of finding that fragile balance and thin line between technically and aesthetically pleasing climbs without risking it all. But after the first major incident, l realized that there is not much to hold on to in this theory, so I was forced to bring faith into the equation, and hold on to that.
But, we were able to learn pretty fast, that we need to climb on a surface that was previously melted by the sun. And I don't mean it was in the sun for a few days, I'm talking about a much longer period of time. So we began looking for icebergs that have turned 90°, so that what was once a flat surface of an iceberg, rotated and became a steep, preferably vertical wall and then we would try to climb on that.
The other thing is that you need to respect icebergs. You need to listen to them. You need to be gentle. You don't just jump on them and climb them for the sake of it. Climbing icebergs is a process of finding the right one, finding the right line, figuring out how you can approach it, and finally getting out of that boat and trying to climb it. Then, you climb as gentle as possible and you just might climb all the way to the top. But you must be prepared to back off; you don't want to push it. You need to listen to the iceberg and if it's telling you (usually pretty loudly) that you should leave it alone, then it might be wise to slowly climb back and jump on that boat again.