Missy Franklin Joins the GoPro Family
She swims, she wins big, she has a contagious personality, and she's now part of the GoPro family. She's Missy Franklin, and in addition to joining our team, Missy let us follow her around for the GoPro original series, "Finding Missy."
The behind-the-scenes-style docu-series premieres April 11 and gives fans a look into Missy's life as a world-class athlete, a daughter, a student and an infectious goofball. 
"GoPro works with some really incredible athletes, and I love how they are able to capture the integrity and dedication of every single athlete they work with," Missy says about the project thus far. "As someone who cares so deeply about my fans, GoPro has enabled me to connect with them in new, different ways and show them what I do on a daily basis. I want them to feel like they are on this journey with me."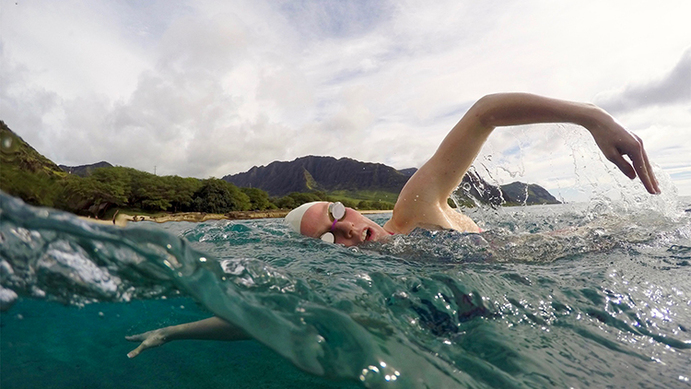 After exploding onto the international scene in 2012, Missy Franklin became a countrywide sensation at just 16-years old. As a four-time Olympic gold medalist, world-record-holder in the 200-meter backstroke, 11-time World Championships gold medalist and the winner of three NCAA individual titles in 2015 alone, Missy is now preparing for perhaps her biggest summer yet. And GoPro is enabling her to tell the story in her own words with the "Finding Missy."
The two-part series takes viewers on Missy's journey from Hawaii for mental conditioning to Berkeley, Calif. — for a glimpse at her college life — and finally, to Colorado for elite training. 
"We are stoked to welcome Missy to the GoPro family," says vice president of global sports entertainment marketing Todd Ballard. "In addition to being one of the world's most amazing athletes, Missy's spirit is infectious. We know that Missy's fans are a huge part of her journey, and we are excited to be able to give her a platform where she can connect with her fans on a new level from a perspective that is entirely her own."
Missy is one of several athletes that GoPro has focused its lens on recently. The second series, called "Two Roads," features the stories of tennis players Bob and Mike Bryan, hammer thrower Britney Henry, fencer Miles Chamley Watson and several more world-class athletes as they aim to reach the pinnacle of their sport. (Check out more here)
GoPro is pumped to share these stories to celebrate the immense effort that these world class athletes put into their individual pursuits and will be cheering loudly for them along the way.