GoPro Skate Goes Global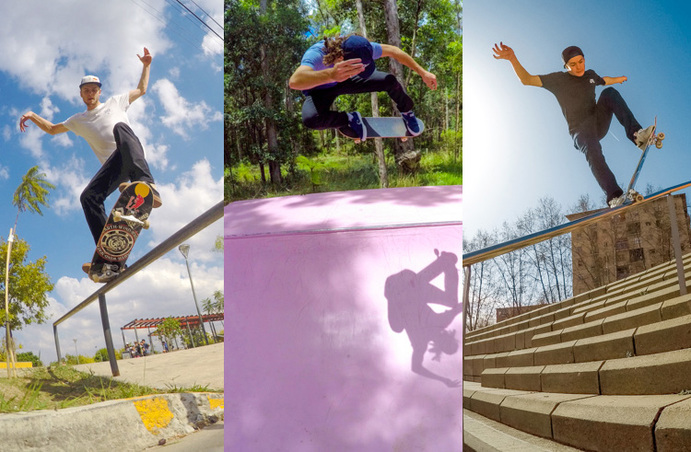 Madars Apse, Aurelien Giraud, and Andrew Brophy Join the GoPro Skate Team
GoPro is proud to announce the addition of three new skaters to the growing GoPro Skate team. Representing Latvia, France and Australia, these guys are helping bring GoPro skate clips to the world.
Holding it down for Margaret River and Western Australia, Andrew Brophy has more pop than a Pringles can and face-melting style to go with it. "I'm so stoked to be apart of the GoPro family! It's like the camera was designed around an on-the-go lifestyle; turn it on, point and pull the trigger! With my kids, family and skateboarding, it's the perfect choice!"
Hailing from Ventspils, Latvia, Madars Apse, uses his creativity to skate any spot, whether it is flat ground, hubba, or a seemingly unskateable obstacle. On the Element Europe team since 2008, Madars has traveled the world to skate, but still calls Latvia home. With a degree in marketing, Madars knows how elevate his brand. When he is not stacking clips, he is cutting his own series, "It's a Mad World."
Frenchman, Aurelien Giraud, is only just getting started. In 2015, he took the Tampa Am at just 17 years old with a run that would have set the Tampa Pro aflame. With a full bag of consistent tricks, including an overcrook that he can stomp on demand, Aurelien is only going to get better and better.
#GoProSkate Team is Chris Cole, Sean Malto, Sewa Kroetkov, Mikey Taylor, Alex Midler, Leticia Bufoni, Pierre Luc Gagnon, Madars Apse, Aurelien Giraud, and Andrew Brophy