GoPro Launches Channel on LG Smart TVs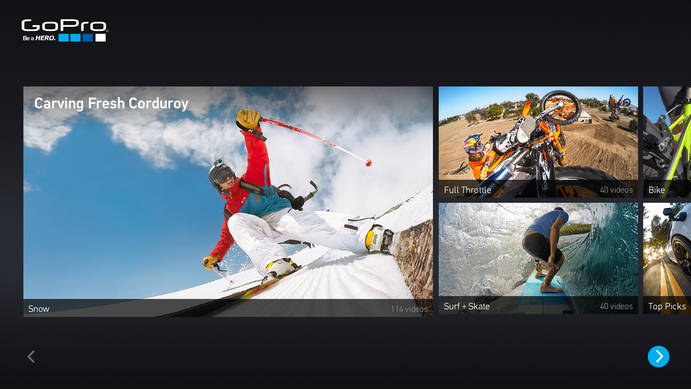 Beginning today, LG Smart TV owners can get their fix of the very best GoPro videos from across the globe on the new GoPro Channel app. Viewers can watch featured playlists - from surf to skate, music to moto and beyond - and browse through videos to discover new favorites and experiences life's most incredible moments as captured by GoPro, all from the home screen of a 2014 or 2015 LG Smart TV.
The GoPro Channel for LG is launching with more than 400 hours of the latest GoPro video content across more than 20 playlists, delivering the best HERO videos with jaw-dropping POV angles, close encounters with endangered species, adventures to the remotest parts of the earth and much more.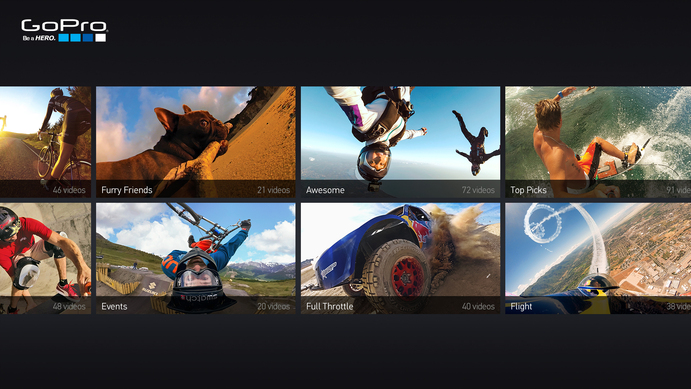 We're working hard to bring stunning GoPro content to new platforms around the world, and the GoPro Channel for LG Smart TVs is a major step in that intitiave! LG joins our already awesome roster of content partners including Xbox and Virgin America.
So if you've got an LG Smart TV, jump to your home screen now and watch the GoPro Channel! For more information about the announcement, check out the press release we issued today, at the kick off of the Consumer Electronics Show in Las Vegas:
GoPro App Brings A New Channel to the LG Smart TV Platform
Alliance Brings GoPro Video Entertainment to Millions of LG Smart TV Owners
LAS VEGAS (JAN. 5, 2015) – GoPro, Inc. (NASDAQ:GPRO), enabler of some of today's most engaging content, announced the official launch of its GoPro Channel app for LG Smart TVs. The alliance between GoPro and LG Electronics USA capitalizes on LG's award-winning webOS Smart TV technology available on 2015 and 2014 4K ULTRA HD, OLED and FULL HD TVs to deliver the immersive imagery that is a hallmark of the GoPro video experience.
LG Smart TV owners can stream more than 400 hours of compelling GoPro high-definition videos on-demand beginning today, including stunning content shot on the HERO4 Black, the most advanced GoPro camera ever. Access to 4K content is anticipated in future updates to the Channel.*
"Entertainment is evolving rapidly into new formats and onto new platforms, and LG Smart TVs will provide a beautiful display for GoPro's best original productions and user-generated content," said GoPro Head of Programming and Distribution, Adam Dornbusch. "The GoPro Channel App will enable millions of LG Smart TV owners to experience life's most incredible moments as captured on our HERO cameras."
The new app allows LG Smart TV users to immerse themselves in the world of GoPro with just the click of the LG Magic remote. Viewers will experience engaging and inspiring moments, from global expeditions and adrenaline-pumping stunts to everyday moments and jaw-dropping POV angles, Dornbusch explained.
Available exclusively on LG webOS smart TVs, the GoPro Channel will allow users to browse and search across more than 20 playlists including Top Picks, Deep Sea, Wild Animals, Short Films, Full Throttle and Behind the Scenes. LG Smart TV owners will be able to watch individual videos and view back-to-back videos within a playlist.
"LG's webOS smart TVs make finding the content you want fast and simple, so that consumers can spend more time enjoying, and less time searching for, the content they crave," said David VanderWaal, head of marketing for LG Electronics USA. "I can tell you that consumers are going to be blown away by the inspiring content available on the GoPro Channel app now available exclusively for LG Smart TVs – and experiencing it on our 4K OLED TVs is truly mind-blowing."
The relationship with LG is a major element of GoPro's initiative to expand its content distribution and community reach beyond current media platforms including Xbox One and Xbox 360 entertainment systems, in-flight entertainment on Virgin America, and social channels including YouTube, Facebook, Twitter, Instagram, Vimeo, Pinterest and GoPro.com/Channels.