GoPro Director's Program Launches with New De Lux Music Video
Today, the new GoPro Director's Program launched with flagship music video, LA Threshold by California band De Lux, a post-disco dance-punk DIY duo with roots in the 80's sounds of Talking Heads and Duran Duran. The GoPro Director's Program invites external directors to help expand the notion of what is possible with GoPro technology. Los Angeles-based filmmaker David Harris directed this first piece in collaboration with producer, Giulia Caruso.
David Harris has directed music videos for Capitol Records, Makeshift Music and Joyful Noise. He was the executive producer of the 2015 reboot of Liquid Television and directed MTV's 2010 horror web series Savage County. His collaborator on the project, Italian filmmaker Giulia Caruso, is one of the founding members of the independent production company Nonetheless Productions, producing Andrew Ahn's Sundance-winning debut feature Spa Night and the short film Myrna the Monster.  Nonetheless' latest work includes We've Been Around, a short doc series about trans pioneers in history in collaboration with Focus Features.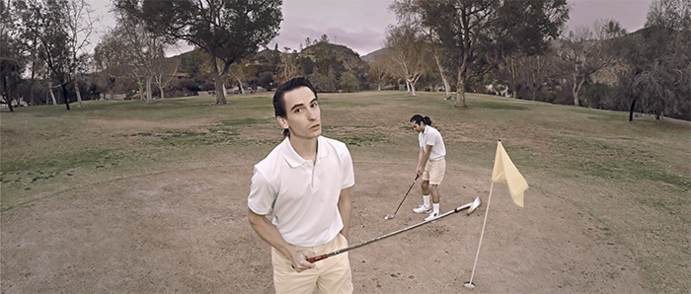 GoPro Senior Production Artist, Gabriel Noguez explains, "Music videos are constantly innovating. GoPro helps push the medium as a whole, due to the nature of their size and high quality video capturing capability."
For the inaugural video launching the GoPro Directors Program, Harris had a vision to shoot multiple stories with an LA cast "sad dancing" to the beat of De Lux's song. As the collective story unfolds, the City of Angels becomes its own character with each performer unwrapping a different layer.
De Lux agreed, "We loved the concept and couldn't be happier how it turned out! We are really honored that y'all would want to launch this program with us."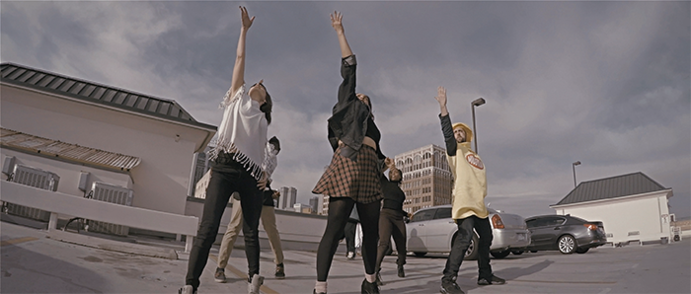 Caruso notes, "The cameras are extremely agile and can be mounted in many different places at the same time, which makes for a very fast and efficient way of shooting. Having this kind of efficiency within the budget would have been impossible with any other cameras and allowed us to shoot a lot of great material for the video."
Harris says it best, "GoPro cameras are tools that support improvisation and experimentation, providing the freedom to try things. That's always good for creativity. The little cameras gave dancers room to go wild. It really helped to be able to playback the hi-res footage to the actors and show them we were truly producing something cinematic."
GoPro sat down with David Harris to learn more about the process.
How did you come up with the creative concept for the video?
Harris: De Lux captured the creative spirit of LA with LA Threshold. It's a danceable song full of angst and doubt. The inner monologue speaks to anybody who is trying to do something creative, while wondering if they're dumb for even trying. The first time I heard the song, the image of "sad dancing" popped into my head: people having crappy days and turning them into something positive and expressive. It was about capturing both halves of the song: the soul-searching lyrics and the great beat. After that, it was very much a collaboration with Giulia Caruso at Nonetheless and Kira Blazek, our choreographer, who turned "sad dancing" from an idea into cohesive moves that our cast could make their own.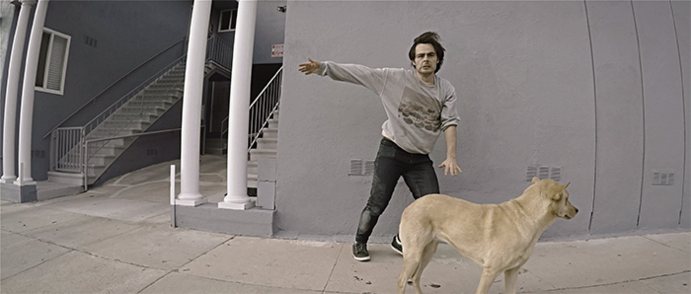 How did you use and incorporate GoPro cameras into the video?
I was definitely inspired by Sean Baker's Tangerine (an incredible indie film shot on mobile phones) and wanted to take advantage of GoPro's even smaller form factor, doing something that felt cinematic. We shot in a mix of 2.7K and 4k in Protune, while moving quickly and giving dancers the freedom to improvise in real spaces. Most of the video was shot in "Wide" mode, and wherever we could, we tried to preserve that – because it holds so much of the locations we filmed in and it gave us an anamorphic look.
How is the production process different when shooting with GoPros?  
That's what's fun about the Director's Program–I'm sure every filmmaker is going to have a different answer to that question. For me, it's about the balance between the total control you have with a conventional camera and the speed and freedom you have when you've got a half-dozen GoPros to play with. GoPro as a brand has done a good job of making these cameras so ubiquitous that people take them for granted, but when you focus on the potential of a 2.7k/4k camera that's smaller than your fist, it sparks a lot of ideas. Obviously, no camera is the perfect camera for every situation, but when GoPro is the right camera, it opens up a lot of fun possibilities.
How does it make you feel that your music video is the flagship piece to launch the GoPro Directors Program?
I feel great about it. It's been a blast and it's one of those things where you know that the band is going to take off and the cast is going to take off and in two years, I'll be the annoying guy telling people, "See, I got to work with De Lux two years ago!" The only bad thing about going first is that I'm sure I'm going to see what the other directors do and be bummed that I didn't think of it. We'll have to make another one.
What did you think about the results?  
I'm so happy. I've used GoPro cameras for POV and as "action cameras" and they're obviously perfect for that. This was my first time using GoPros as the "A" (and "B" and "C") camera.  It was cool to be able to go anywhere and move quickly, but I think the real energizing moment on set was when I played back the takes to the dancers and they could see that as fast as we were moving. We were getting something that looked really special.