Getting Sync'd with Timecode Systems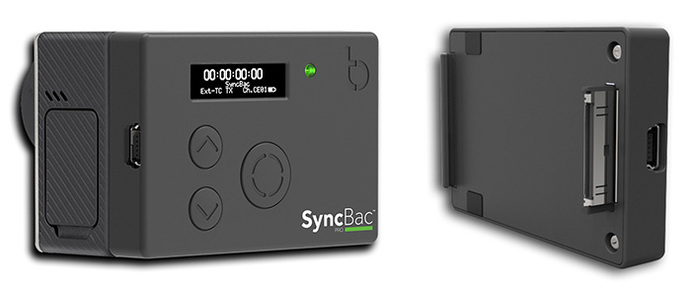 The versatility and unique perspective that GoPro enables has attracted passionate customers the world over. But, it has also become an essential tool for the professional world, as it also offers a more immersive experience for productions.
However, since GoPro cameras are built for the consumer first and foremost, the HERO line of cameras are not timecoded out of the box.  In video production and filmmaking, SMPTE timecoding is used extensively for synchronization, and for logging and identifying material in recorded media. Traditionally, that meant a poor camera assistant would log the start and end timecodes of shots by hand with pen and paper during the production shoot. Now it is typically done using shot-logging software running on a laptop computer that is connected to the time code generator or the camera itself.
So, why is timecode important? For example: in productions where a single take is necessary or the only option, as in live broadcasts, reality shows, and so on, multiple cameras are used to capture action and subjects from a variety of angles. If the cameras are not timecoded, post production becomes an extraordinarily laborious undertaking. Hours and hours are spent manually lining up each shot to sync with the audio. If each camera is timecoded, they can easily be dropped into the timeline and automatically aligned. In short, timecoding is time saving. 
Tech Nerd Tidbit: Timecode Systems received the IABM Game Changer Award at this year's NAB Show for its SyncBac Pro.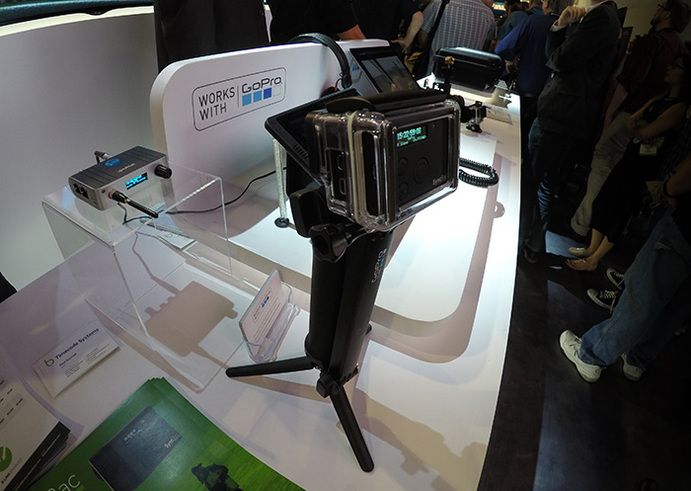 Above: The new SyncBac Pro is a verified "Works With GoPro" product.
Thanks to Timecode Systems' new SyncBac Pro, you can now seamlessly integrate GoPros into professional production workflow. Simply attach a SyncBac PRO to every unit and timecode sync multiple HERO4 units via long range wireless RF. Make one GoPro the master unit and timecode sync unlimited GoPro slaves. With a SyncBac PRO attached, GoPros integrate perfectly into a Timecode Systems production workflow. As well, when connected to Timecode Systems' B:LINK Hub dashboard, SyncBac PRO users can remotely control and monitor multiple GoPros from any smartphone (iOS or Android), tablet, Mac® or PC. This also allows users to adjust camera settings and record start/stop remotely.
The SyncBac PRO is a tailor-made accessory for the GoPro HERO4 Silver and Black, as it seamlessly attaches via the HeroBus™ 30-pin port in the back of the HERO4. It is super compact, yet still houses an internal battery that last 12 hours.
At the end of a shoot, the SD card will have an MP4 file with an embedded frame-accurate timecode at source and can be uploaded into AVID Media Composer, Apple Final Cut Pro X or Adobe Premiere PRO. Whether you use the MP4 file or transcode to Apple ProRes or Avid DNxHD, the timecode remains stable.
Tech Nerd Tidbit: Timecode sync is via B:LINK, which is a wireless long-range sync, control and metadata exchange protocol developed by Timecode Systems, and it operates over long range at 865MHz to 923MHz RF.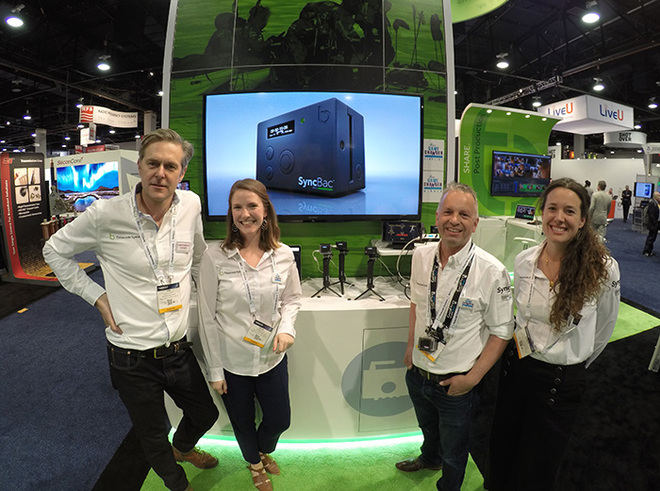 Above: The Timecode Systems team took home the "Game Changer Award"
at this year's NAB Show.
Pretty rad, ya? But does the everyman need a SyncBac Pro? Probably not, but every professional production should have it in the arsenal next to their trusty GoPros. 
The SyncBac Pro is a verified "Works With GoPro," product. Learn more HERE.