Come Fly with Jeb Corliss Over the Great Wall of China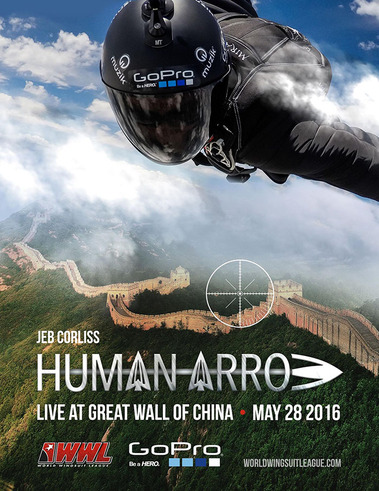 Picture a target the size of an apple, suspended in mid-air over the Great Wall of China. Now, imagine what it would take to shoot an arrow through that target. Not easy. Which is exactly why world-renowned BASE-jumper Jeb Corliss has decided to take on the roll of the arrow and execute the stunt on May 28.
The feat, which is known as The Human Arrow, is 10 years in the making and will require Jeb to drop from a helicopter at 6,000 feet, soar through the air at 120 mph and punch through an apple-sized target. While you're wrapping you're head around that, imagine what it would be like to hop on Jeb's back and enjoy the ride. This is where GoPro comes in.
We are enabling fans worldwide to experience Jeb's stunt first hand, in real time. By using GoPro's HEROCast technology powered by Vislink, GoPro along with local Tianjin TV in China will both live broadcast the historic jump to 500+ million viewers. Not only is this a first for GoPro, but this is a first for human flight fans (and daredevils alike) to experience a stunt of this caliber in real time.
"GoPro is excited to provide this breakthrough broadcast experience and enable viewers to fly along with Jeb as he takes this historic jump. It will be as if you are right there, riding on his back," said Vice President of GoPro Entertainment Ocean MacAdams. "Jeb is one of the world's foremost and best-known BASE-jumpers and wingsuit pilots, and the perfect athlete to demonstrate how GoPro is changing the way people see and experience live events."
To enable this, Jeb will wear the ultra-compact HEROCast setup. The wireless HD micro transmitter is so small, and so light, that it will in no way interfere with Jeb's jump. HEROCast simply plugs into the back of GoPro HERO4 Black cameras and works with GoPro's ecosystem of mounts to deliver the most versatile, mountable high-definition broadcast solution, which is changing the way broadcasters stream live events.
Ahead of the stunt, which is being jointly produced with the World Wingsuit League (WWL), GoPro Entertainment will share another first with fans in the form of its first-ever live show, to be aired on GoPro's Facebook page and here, on The Inside Line. Viewers can start watching at 9:00 PM PST on Friday, May 27.
The show — hosted by thrill-seekers Ramona Bruland, Marshall Miller and Mike "Rooftop" Escamilla — will feature exclusive footage, stories and interviews leading into Jeb's jump, and then, pick up the live feed from Hunan TV, thus enabling fans from around the world to experience one of the most extreme human flight stunts as it happens.
So tune in here and check two things off your Bucket List — seeing one of the Seven Wonders of the World and flying. We won't blame you for skipping the long-haul flight and human flight certification process.