When selecting the Settings option to try and change the HERO3+ camera Wi-Fi Name and/or Password, the Settings screen appears blank or white. It may appear like this: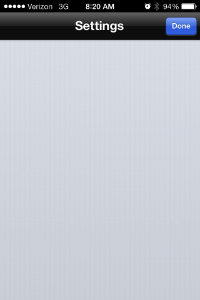 If you are seeing this, it is likely that you do not have the latest GoPro App version installed properly.
iCloud Users
If you have installed the GoPro App and the app is saved in iCloud, it is important to note that the version saved in iCloud may not be the latest GoPro App version. So if at any point you remove the app from your mobile device and then later choose to reinstall it from iCloud, it will download the version that you originally set up with iCloud, which may not be current. This is the normal process for iCloud and is not something specific to the GoPro App.
How to Resolve the Issue
The solution in this case is to make sure that you have properly updated to the latest GoPro App version:
Uninstall and Reinstall the GoPro App, in the App Store to install the latest version, do not install from iCloud.
Then Pair your camera to the Wi-Fi Network open the GoPro App and it should prompt you to change your Wi-Fi Network Name and Password.