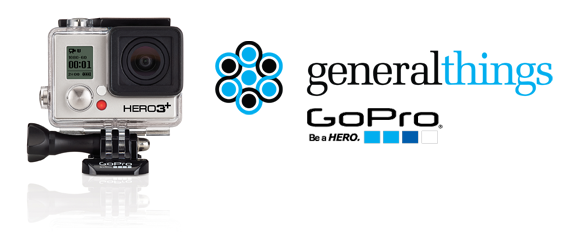 Acquisition Furthers GoPro's Mission to Help People
Capture, Manage and Share Engaging Life-Content
SAN MATEO, CA (October 22, 2013) ­­– GoPro, makers of the world's most versatile and best selling cameras, today announced the acquisition of General Things, Inc., a leading digital design and software studio based in San Francisco, California. General Things has been a strategic partner of GoPro since 2010, and has been instrumental in helping the company advance its business backend and consumer-facing web development.
"The team at General Things has contributed tremendously to GoPro's success across the digital landscape. As GoPro continues to evolve, they will play a key role in helping us realize our mission to enable people to easily capture, manage and share engaging life-content," said Nicholas Woodman, founder and CEO of GoPro.
"GoPro and General Things have had a close and productive partnership over the last several years. As we learned more about GoPro's vision we became more and more excited to join them to help realize that vision," remarked Nick Hodulik, President and CEO. "We cannot thank enough, all of the wonderful customers, employees, partners and friends who have helped make General Things such a great success."
GoPro recently launched a new website, developed in partnership with General Things, to support the release of the new HERO3+ line of cameras. GoPro's previous HERO3 and now HERO3+ line of cameras are the best-selling cameras globally in both consumer* and professional markets. In addition, GoPro ranks as the 2nd largest camera accessory brand on a volume basis.
About GoPro
GoPro makes the world's most versatile and best selling cameras, enabling people to capture immersive and engaging footage of themselves during their favorite activities. GoPro's HERO line of wearable and gear mountable cameras are used collectively by more consumers, professional athletes, and video production professionals than any other camera in the world. Based in San Mateo, California, GoPro's products are sold in more than 35,000 stores in over 100 countries worldwide and direct via GoPro.com.
GOPRO® and HERO® are trademarks or registered trademarks of Woodman Labs, Inc. in the United States and other countries. All other company, product names are trademarks or registered trademarks of their rightful owners.
* Source: The NDP Group Digital Imaging and Camcorder Report & Internal GoPro Sales Data